All-in-One CX Platform from Lead to Cash

By leveraging our all-in-one platform, you can manage the entire customer journey, from lead generation to closing deals, while providing exceptional service at every step.
CloudOffix Customer Experience Tools, the best customer experience tool available, offer an all-in-one customer experience cx management solution that allows you to manage the entire customer journey from lead to cash. By seamlessly integrating your marketing, sales, commerce, service, e-commerce, invoicing and IT teams, you can enhance collaboration and boosts the satisfaction of the customers.
With our advanced contact management features, automation capabilities, and real-time data insights, you can efficiently manage and nurture leads, convert them into customers, and seamlessly handle the sales process. From initial contact to final purchase, our customer experience software ensures a positive and cohesive experience for your customers.
CloudOffix Customer Experience Tools empower your organization to deliver the best customer experience journey possible, allowing you to streamline operations, increase efficiency, and reduce costs.
better collaboratıon. unıfıed experıences.
Unify. Excel.
CloudOffix enables teams to have a unified perspective of each customer, facilitating improved collaboration and greater efficiency in serving your customers effectively.

The outcome? Delighted, loyal customers, increased team productivity, and substantial cost savings, accelerating your journey towards achieving business success.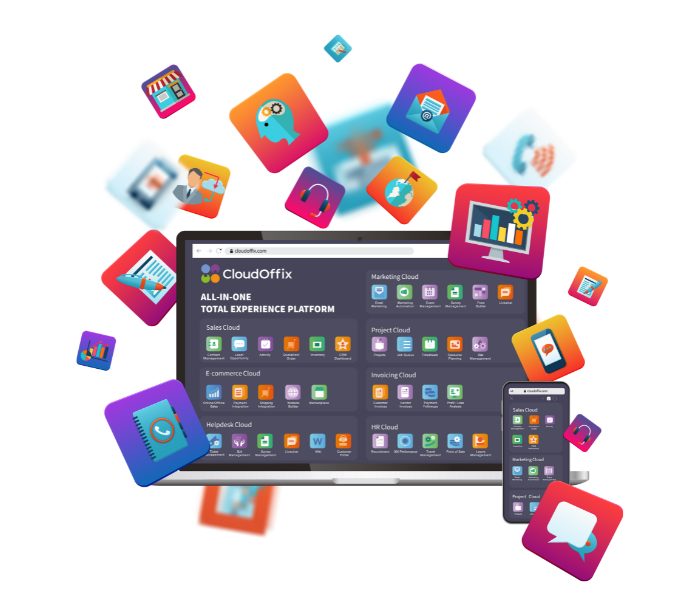 The Perfect Fit For Businesses Of All Sizes And Industries
Whether you run a grocery store or a car manufacturing company, our customer experience management solutions are designed just for you! Experience time and cost savings as our offerings meet your specific needs.
Developed in collaboration with industry experts, our specialized solutions provide the essential capabilities for your growth and success. Unlock a fully personalized experience with access to a wide range of apps and expert guidance through our extensive ecosystem partner network.
With CloudOffix, customization is effortless using our multiexperience development platform,
. Need a specific application? With our
low-code platform
, you can create it in seconds. Flexibility and adaptability are at the core of CloudOffix, ensuring we meet your business's ever-changing requirements.Discover the simplicity and power of customized solutions with CloudOffix.