Complete Marketing Software
From email marketing to lead automation, live chat to surveys, and events management, our comprehensive marketing cloud has everything you need to supercharge your marketing efforts and achieve unparalleled success.
Website Design
Create stunning websites with ease, using CloudOffix marketing software's intuitive interface that allows you to design and customize your site quickly and effortlessly.
E-mail Marketing
Say goodbye to complicated coding and hello to hassle-free email design and scheduling with CloudOffix Marketing Cloud's intuitive drag & drop features.
Lead Automation
From capturing leads to nurturing them with personalized campaigns, our powerful marketing software empowers you to effectively engage and convert leads into loyal customers.
Events
Manage your events from start to finish with CloudOffix Marketing Cloud. Our all-in-one marketing software provides you with comprehensive event management capabilities, from planning and promotion to registration, attendee tracking, and post-event analysis.
Surveys
Create customized surveys, send them to your customers, collect responses, analyze the results, and take action to optimize your marketing efforts using our marketing software.
Live Chat
Deliver superior customer service and generate qualified leads with CloudOffix Marketing Cloud's omnichannel live chat capabilities.
Web-Site Design
Design professional websites integrated with CloudOffix marketing software in minutes, with no coding required, using our intuitive no-code features.Utilize Marketing Cloud's drag-and-drop blocks to create stunning web pages that are mobile responsive and optimized for SEO, integrating with Google for top rankings. Track customer behavior and website performance with our customer and website tracking tools, analyze data, and take data-driven actions to optimize your marketing campaigns. Acquire leads with HTML forms on your website, and seamlessly manage and optimize your marketing campaigns with CloudOffix Marketing Cloud. Experience the power of SEO management, customer tracking, and data-driven marketing strategies for unparalleled marketing success.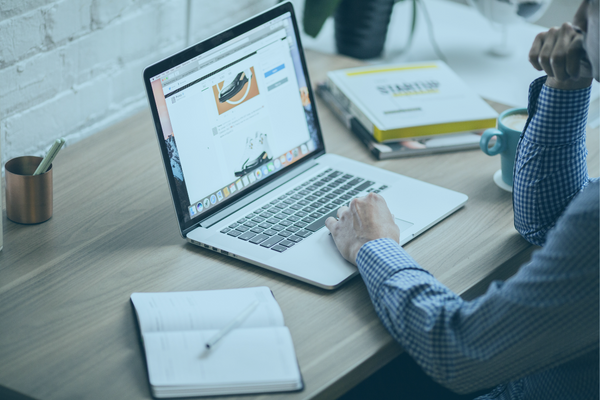 E-Mail Marketing
Say goodbye to third-party apps and manual list imports/exports and get access to comprehensive data insights with Marketing Cloud. Track email delivery status, open rates, read rates, click rates, and more to gain valuable insights into the performance of your email campaigns with CloudOffix marketing software. Create stunning emails with our marketing software's drag-and-drop email design editor, and rest assured knowing that your emails are mobile responsive. Plus, you can easily send emails to contact lists, CRM contacts, or contacts from your CloudOffix contact database. The best part? All actions are recorded on the contact card of the lead, providing you with invaluable insights for successful marketing campaigns. Streamline your email marketing with CloudOffix marketing software and unlock the full potential of your business. Analyze customer behavior, measure campaign effectiveness, and optimize your marketing strategy for better results.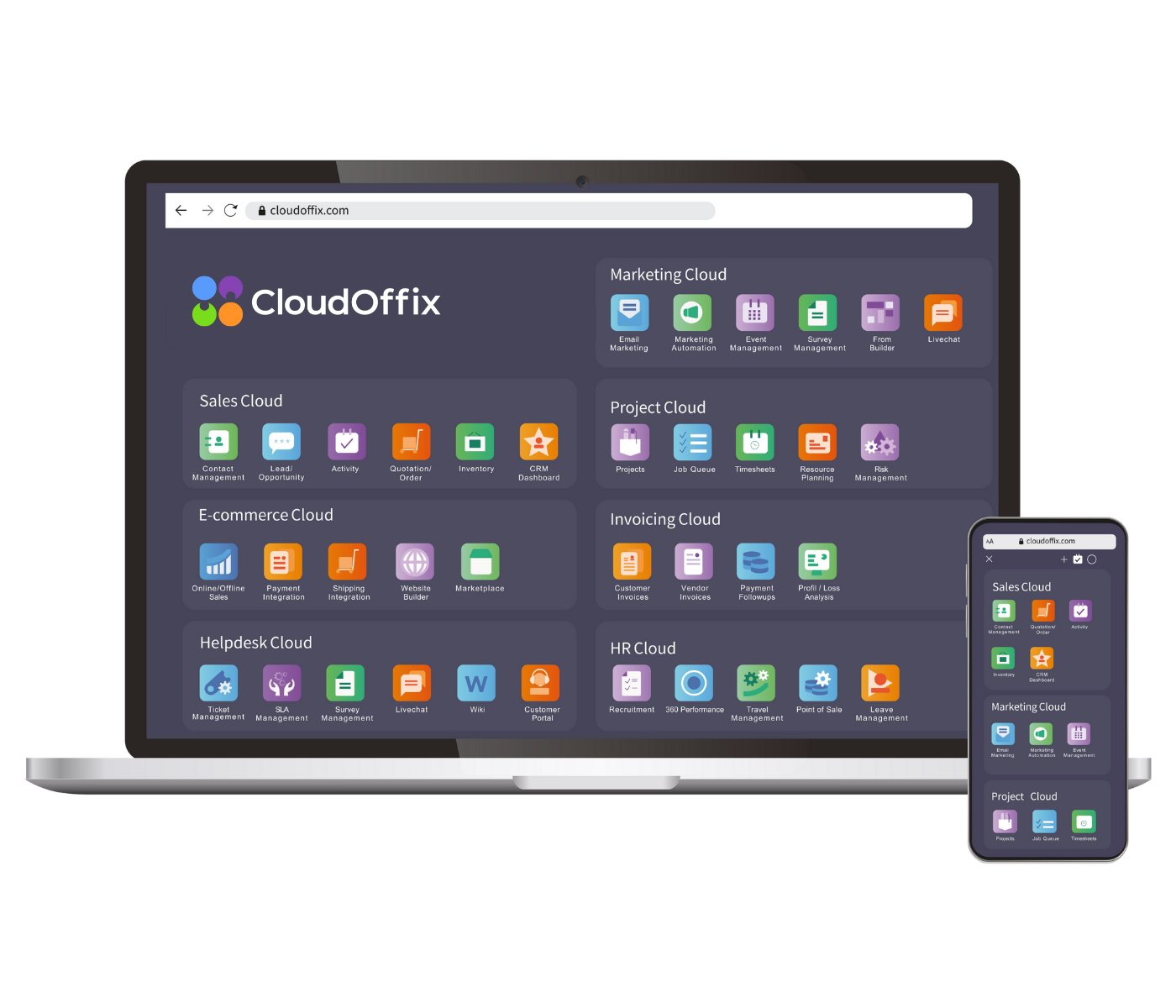 Marketing Automation - Your Trusted Digital Marketing Robot
Streamline repetitive tasks and create targeted marketing campaigns that nurture prospects automatically. Assign leads to salespersons, trigger automatic emails at specific intervals, and follow up with prospects in a predefined way. CloudOffix marketing software acts as your digital marketing robot, freeing up your time and resources while delivering personalized and timely marketing communications. Maximize efficiency, save time, and drive better results with CloudOffix automated marketing. Become a digital marketing leader with the power of automation at your fingertips thanks to CloudOffix Marketing Cloud.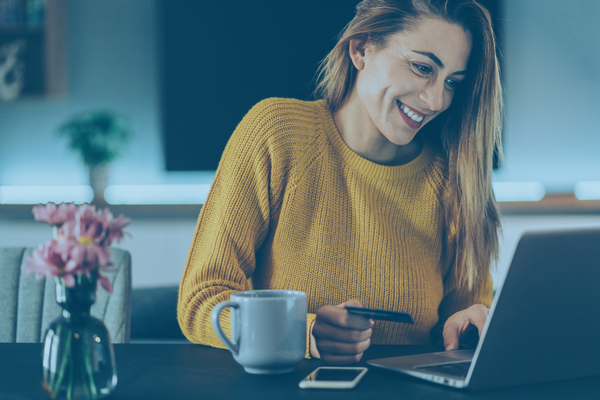 Events
Organize both seminars and webinars without the need for multiple apps. Create event websites, manage registrations, and even offer free or paid events with ease. CloudOffix marketing software is equipped with all the features you need for a successful event organization from day one. Create events, track registrations, accept payments, and seamlessly integrate with email marketing and marketing automation to maximize your event's impact. Whether it's an online or physical event, CloudOffix Marketing Cloud has you covered, making event management a breeze for your marketing efforts.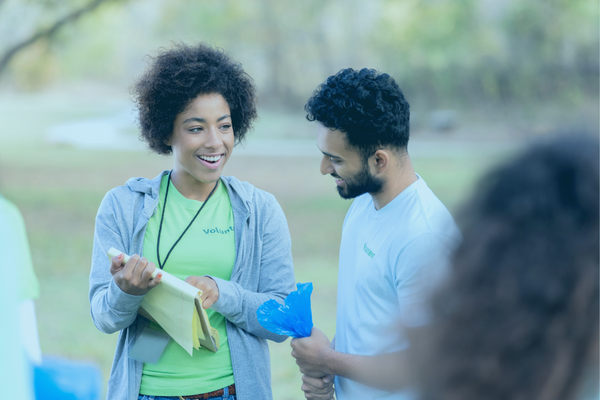 Umfragen
Your go-to solution for collecting feedback from your customers, prospects, and team members.
With CloudOffix Survey Management, you have full control over survey creation, customization, and distribution. Create surveys tailored to your specific needs, track responses, and analyze results to gain actionable insights in CloudOffix marketing software. Seamlessly integrate survey data with your marketing campaigns and automation workflows to drive targeted, personalized campaigns.Goodbye to multiple feedback collection applications and hello to automatized survey management solution that streamlines your feedback collection process and helps you make informed business decisions.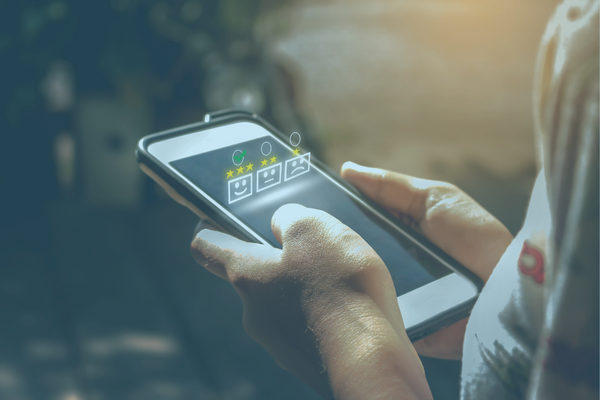 Omnichannel Live Chat
A powerful omnichannel live chat feature that is integrated with CRM (Customer Relationship Management) and contact database. Easily engage with customers or prospects in real time through live chat, without needing any additional chat app integration on your website.
With CloudOffix Live Chat, you can convert visitors to leads or questions to support tickets seamlessly. You can filter visitors based on their IP addresses, allowing you to provide personalized live chat support based on their location or other criteria.
By integrating live chat with CRM and contact database, CloudOffix marketing software enables you to have a comprehensive view of customer interactions and history, helping you provide personalized and relevant support.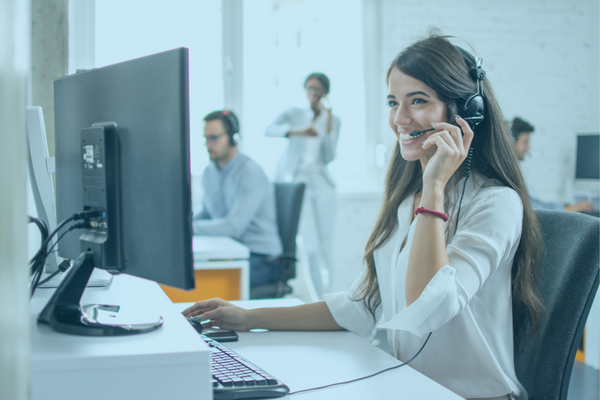 Visitor Tracker
Wouldn't you like to know if you've had any visitors? "Visitor Tracker" enables you to see who has visited your website, how many times and for how long; allowing you to understand your customers better. Moreover, if you've shared a link somewhere, CloudOffix Marketing Cloud allows you to track the performance of that link. With data in hand, you can take informed marketing actions and optimize your strategies for success. Get the marketing ball rolling with CloudOffix Marketing Cloud!
FIND OUT NOW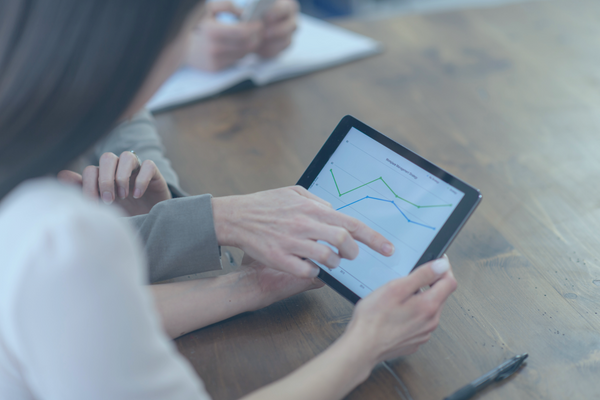 Vollständige Integration mit Sales Cloud
Are you still using separate marketing apps that create silos between your Sales and Marketing teams? Please don't! This is not sustainable. With CloudOffix, you can bring your sales and marketing efforts together in perfect harmony.
Our all-in-one marketing software streamlines your processes and eliminates the need for time-consuming importing and exporting of contacts. With a customer-centric approach, CloudOffix ensures that everyone is on the same page, working seamlessly towards your marketing goals.
Imagine having a single marketing software that allows you to manage your sales and marketing activities in a unified manner.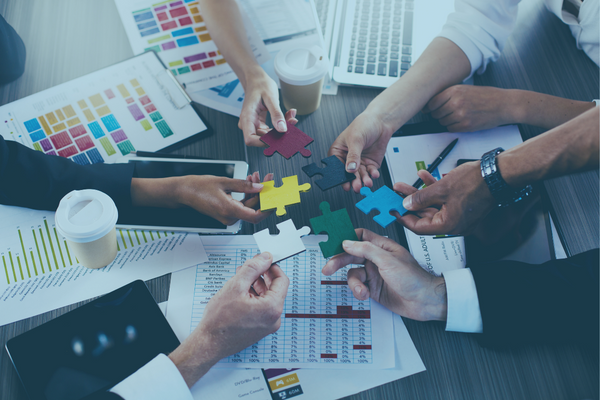 Customization
Your Marketing, Your Rules - CloudOffix Delivers Customization!
No need to rely on multiple marketing softwares that are limited and inflexible. You can create customized solutions for your apps and websites without the need for extensive coding knowledge by using Marketing Cloud's low code or no code options. Additionally, you can optimize your marketing strategies with valuable insights and analytics from customized reports. Say goodbye to costly multiple marketing softwares and meet the hyper-automated world of CloudOffix Marketing Cloud.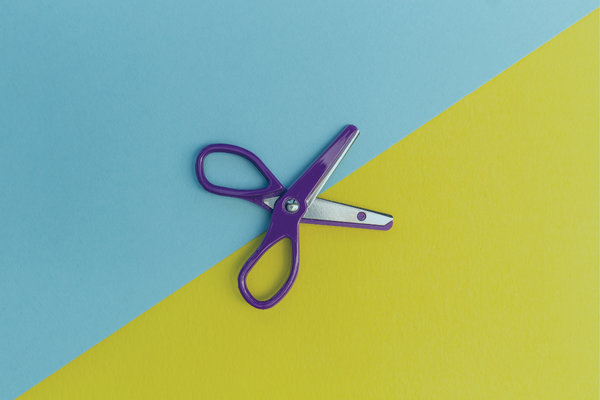 Marketing Cloud replaces;
Hubspot

Mailchimp

Pardot

Mautic

Marketo

Contant Contact

Get Response
Zusätzlich,
Marketing Cloud includes;
Contact Management

Calendar Management

Marketing Automation

Event Management

Livechat

Survey Management
Zusätzlich,
Have you tried all other Cloud Marketing tools, but are not satisfied yet?